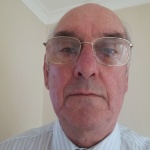 Derrick's career in Chemical Pathology started in a small hospital where samples (40 per day) were asseyed manually and ended in a large automated lab that handles 3-5000 samples a day. Over the course of his career advances in technology and medical science were profound. There were major changes in working practices as well.
During the later stages of his career, Derrick was an examiner for his subject for the Institute of Biomedical Science and a member of the expert panel. He was also a member of, what is now called, the Army Reserve for 25 years, ending-up commanding a workshop of transport regiemnt based around London. 
Since Retiring, Derrick has become involved with Healthwatch Barnet and lead Enter & View visits. He also sits on teh Primary Care Group. Derrick is a member of several NCL STP committees looking to standardise various treatment pathways in the NCL area. He is also chair of trustees of a small locally based charity whose role is to reduce social isolation; this he finds extremely satisfying, though sometimes very stressful.