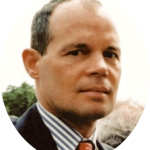 Richard Ballerand is an Axolotl Associates partner and digital health engagement advisor. A former Royal United Services Institute Fellow, he is passionate about health resilience and public engagement. Educated in law, economics, and psychology, he has a dual defence and finance background, and travelled widely as military liaison officer and strategic consultant prior to acting as a non-exec or trustee on several think tanks, boards, and university councils.
He remains active across the European health sector, serving on a NICE Technology Appraisal Committee, a NIHR Health Technology Assessment Prioritisation Committee, THIN (The Health Improvement Network) Advisory Committee, the Healthcare Transformation Academy Advisory Board, Health Data Research UK's Science and Infrastructure Delivery Group, and the useMYdata Advisory Group.
He is also a European Institute for Innovation and Technology Expert Evaluator, Innovative Health Initiative Patient Expert, Chelsea and Westminster Hospital Trust Public Governor, and Fellow of both the European Patients' Academy on Therapeutic Innovation and the Royal Society of Medicine. 
Drawing on extensive lived experience of the British, French, and American healthcare systems, including family advocacy and care coordination, Richard has particular interests in those with invisible disabilities and the challenges facing ex-military and diverse groups.       @RMBallerand       www.Ballerand.net