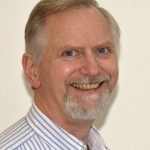 I am a session GP in a prison in Oxfordshire, having previously been a GP partner, Trainer and assistant in Ealing for 30 years. My interests in public health, commissioning and quality has meant that I have taken the opportunity to become increasingly involved in service redesign and quality improvement. As a GP I had interests in HIV, drug abuse, respiratory disease and anticoagulation.
I became Medical Director for NHS North West London, then Medical Director for Quality and Service Design, before becoming Deputy Regional Medical Director for NHS England (London). I left this role in 2016 and spent a year working for a Consultancy (Carnall Farrar).
Having been a resident of Ealing since the age of 7 I moved to Buckinghamshire in 2017, and reduced work to be better able to care for my wife, who had multiple sclerosis until she died in 2021.
I have two daughters, the eldest, working for a dementia charity and the younger an educational psychologist working in London.
I enjoy good food and photography and am learning to fly.