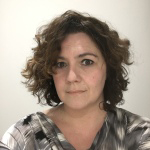 Lucy works in stakeholder engagement for the Film and TV Charity on a one-year industry-wide programme to improve mental health, including a behaviour change campaign designed to destigmatise talking about mental health and looking at what causes poor mental health in these industries. This includes encouraging industry leaders to take meaningful action and start top-down change, and developing marketing and communications campaigns and resources for people working behind the scenes.
She is an author, editor and communications and engagement professional with a background in journalism, production and media regulation, and a clear commitment to raising the concerns and voices of underrepresented groups. Her writing (as Luce Brett) has appeared in print and online including in The Guardian, The New York Times, Huff Post, The Sun, The Daily Mail and she has spoken about women's health, birth injury and taboo health conditions on national radio and many international podcasts. She spent 14 years at the British Board of Film Classification including as Head of Education working directly with parents, children and young people developing websites, policy and outreach programmes which spoke to thousands of people each year across the UK. She also worked on research projects looking at public opinion, incluidng a public consultation to help write new BBFC Guidelines on sexual violence and strong material in films and TV. She has also worked for the Open Data Institute including on its Open Active tools to make more information available to the public about health and fitness activities in the UK.
As an advocate for patient inclusion in healthcare Lucy is also a Patient Insight Partner for Versus Arthritis and a member of the charity's Research Advisory Group for Rare Diseases, helping bring patient concerns into the heart of research strategy. She has a keen interest in taboo conditions, speaking widely on incontinence including at IUGA and on behalf of the World Federation of Incontinence and Patients, contributing to NICE guidelines, judging the 2021 BMJ awards category for Women's Health as a patient experience advisor, writing for the BMJ and Patient Safety Learnings, and working via the senate with London Maternity Services on online patient information. Her first book, PMSL, explores the shock of becoming incontinent as an adult and the wider heart-breaking ramifications of a condition with a lack of global profile which causes striking health inequality, and was published in 2020.