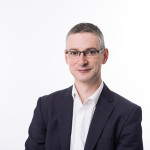 Dr Michael Holland is currently Executive Medical Director at South London and Maudsley NHS Foundation Trust and works as a Liaison Psychiatrist at Guy's hospital. He is also Co-Clinical Director for London Mental Health network, a visiting senior fellow at London School of Economics and Executive Fellow at King's Business School.
He has been a Non-Executive Director at Recovery Focus. He was previously Deputy Medical Director and Chief Clinical Information Officer and led the implementation of Revalidation within the organisation. Prior to this he was a Fellow at the NHS Institute for Innovation and Improvement where he worked on the development of resources for the use of SBARD within Mental Health and helped to set up and deliver Leading Improvement in Patient safety for Mental Health services within the UK. He has also worked as an Improvement Advisor to the Improvement programmes delivered in NHS South West and NHS South.
He became a Rehabilitation Consultant in 2003 at South London and Maudsley NHS Trust, having finished his SpR training within the Trust. He had previously completed his SHO training on the St George's rotation.