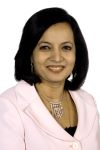 Professor Geeta Menon is a Consultant Ophthalmic Surgeon at Frimley Health NHS Foundation Trust in Surrey.  In addition to high-volume cataract surgery, she has developed a major interest in medical retina, including research particularly novel treatments for age-related macular degeneration.
She is the Postgraduate Dean for Health Education England across South London since April 2018.  She is the Lead Dean for Cancer and Diagnostics.
She is the Clinical Director for NIHR Clinical Research Network in Kent, Surrey and Sussex. She won the coveted RCP-NIHR award of Excellence for research leadership in the NHS in 2017.
She is involved in the VISION 2020 links programme and set up Diabetic Retinopathy Screening in Zambia. She has extended this programme to St Lucia and Northern India. She won the 'Excellence in Patient Care Award' hosted by the Royal College of Physicians (RCP) for outstanding clinical activity that contributes to excellent patient care overseas.